Prices listed are not per person; prices listed are for chartering the boat.
When you charter the boat it is yours with up to 6 passengers maximum in your group.
Fuel surcharge may be added, due to fluctuation in the market.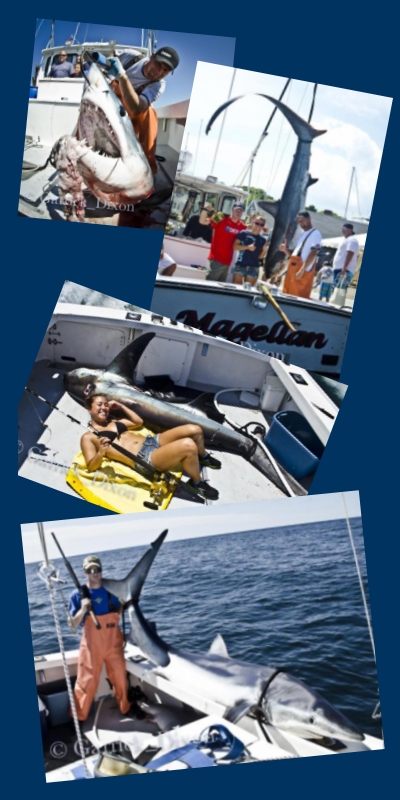 Come and join the Crew of the Magellan for the Cape Cod shark fishing charter of a life time. You have heard people say it is all about, "Location, Location, Location" and that is exactly why you should fish with us. Located in Harwich Port, MA on Cape Cod, we have access to some of the world's best shark fishing. We fish the waters east of Chatham, MA and south of Martha's Vineyard and Nantucket because that is where the bait is. The shoal waters around Cape Cod and the Islands are some of the most fertile waters in the world because of the mixture of warm and cold water that naturally accrues in this area. Squid, Herring, Butter Fish, Mackerel, Sand Eels, Bluefish and Ground Fish make up the best possible food source for sharks. In 2001 Luke Sweeney set the I.G.F.A. all tackle world record for a Mako Shark he caught just to the east of us off the coast of Cape Cod weighing in at 1,221 pounds.
We generally leave the dock at 4 A.M. and return at 4 P.M. on our shark fishing excursions. On most trips we will stop on the way out in the rips off Monomoy and Nantucket Island to pick up some fresh and live baits. Slammer Bluefish for shark bait with a few Striped Bass in the the mix, what could be better and this is just on the ride out? We find that fishing a few live baits can make the difference when it comes to hooking Blue Sharks and the highly prized Mako and Thresher sharks. Mako and Thresher Sharks are not only considered game fish but are excellent table fair. If you have never been shark fishing before you should really give it a try. I have heard customers say that seeing a Mako or Thresher Shark bust out of the water and do aerial acrobatics when hooked, is well worth the price alone of admission. You only need to see this kind of show once in order to want to come back for more. We have also have had several trips where Blue sharks have come up under the boat and taken bait right out of our hands. Our fishing grounds hold large numbers of marine mammals, Humpback and Fin Back whales, as well as dolphins add to your experience. Furthermore, on the way home you may see some of the thousands of gray seals that make the Monomoy National Wildlife refuge their home. In recent years several Great White Sharks have been spotted in this area feeding on seals.
Book your trip for a Shark Fishing Charter for late June thru October. If you get the chance, fish more than once this season. Early season offers an excellent shot at a Mako or Thresher. In the Fall you have a chance of hitting a grand slam because the Blue Fin Tuna are right there in the mix. So don't pass up the opportunity of a life time book your Shark fishing Charter today. If you still can't pull the trigger just ask us what satisfaction guaranteed really means.