Prices listed are not per person; prices listed are for chartering the boat.
When you charter the boat it is yours with up to
6 passengers maximum in your group.
Fuel surcharge may be added, due to fluctuation in the market.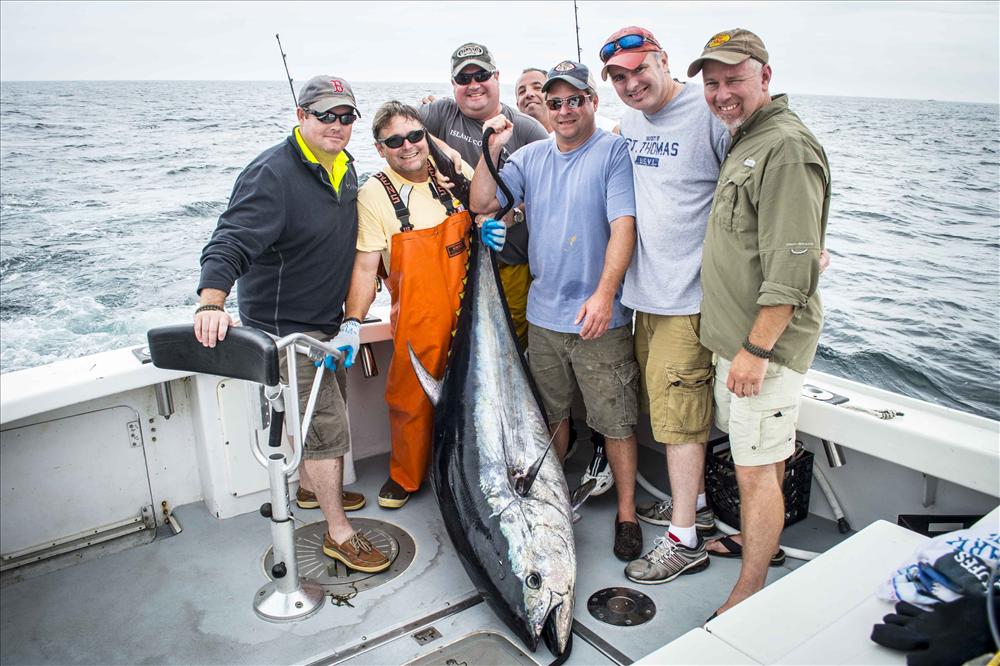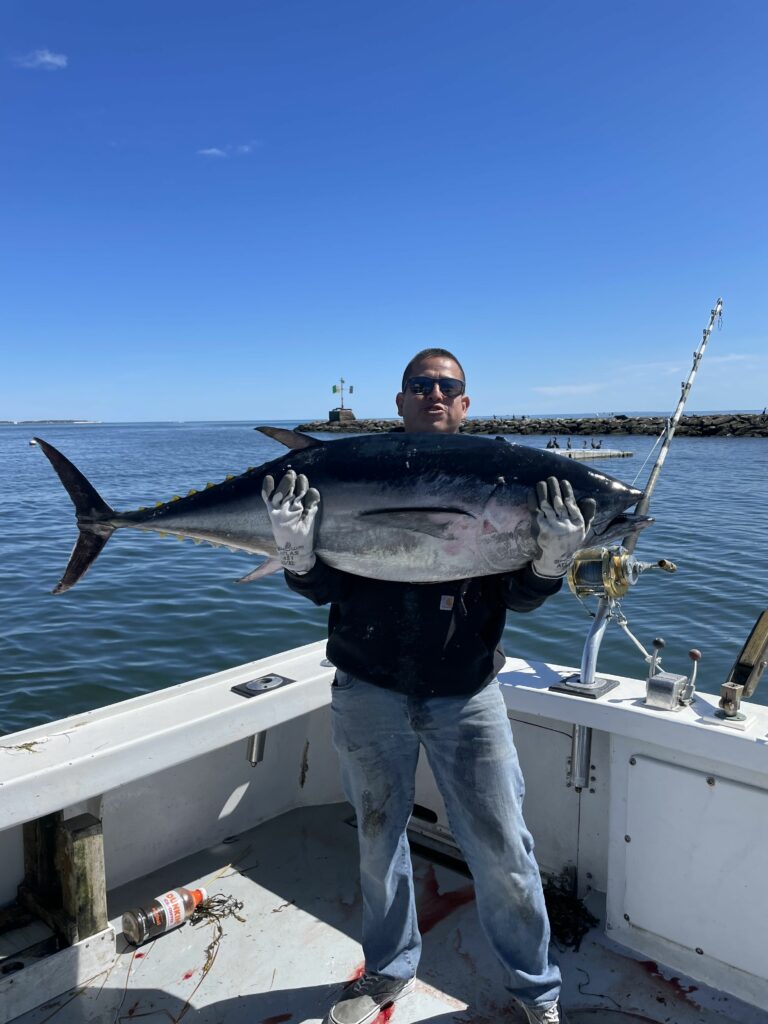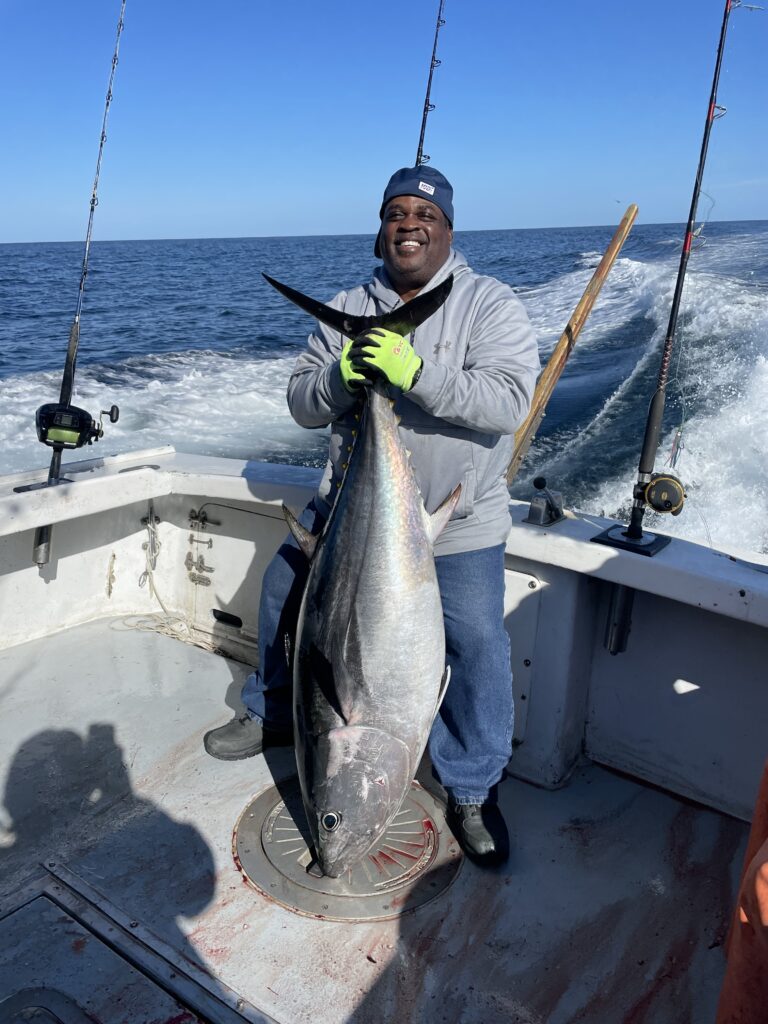 Under federal regulations our charter costumers are currently allowed to retain 3 Blue Fin Tuna between 27" and 47" and 1 blue fin tuna between 47" and 73". In the event a Tuna larger than 73" in length is landed, it will be landed on our commercial permit and sold by the captain; 30% of the sale proceeds will be returned to the charter. Call for details (508)237-9823
The mighty Bluefin tuna or as referred to in Days of Old, the horse mackerel, spends its summer and fall off the coast of Cape Cod. Tuna show up here every season to gorge themselves on the smorgasbord of bait off our coast. The crew of the Magellan has over 25 years experience catching these magnificent fish. In 2009 Captain Jason caught our biggest fish to date weighing in at 1,039 pounds. Our charter boat the Magellan fishes out of Saquatucket Harbor which is in Harwich Port on Cape Cod in Massachusetts. Harwich Port has been a tuna fisherman's Mecca for over two decades and is where your deep sea tuna fishing adventure begins.
The Bluefin tuna is one of the most highly evolved and commercially valued fish in the world. To say this fish is awesome is an understatement, at the age of 8 it starts laying up to 30 million eggs annually in the northern Gulf of Mexico and lives in excess of 30 years. The Bluefin tuna is one of two fish in the ocean that can maintain its body temperature which allows the tuna to feed in a much wider range than all of its other highly migratory cousins. On the Magellan we have caught Bluefin tuna in a wide range of water temperatures as low as 49 degrees and as high as 76 degrees. Bluefin tuna love to eat and they eat a lot: squid, butter fish, herring, sand eels, half beaks, whiting, cod, blue fish and striped bass have been found in the bellies of Bluefin tuna caught on the Magellan. The largest Bluefin tuna ever caught on rod and reel was landed in Nova Scotia in 1979 by Ken Fraser and is the current IGFA world record weighing in at 1,496 pounds.
On our charters we have caught a wide size range of tuna from small 10 pound school-size fish up the 850 pounder caught by Jim Layte in 2009. We normally do not target Giant Bluefin tuna on our charters, but concentrate on the medium size fish ranging from 50 to 200 pounds. Over the years we have found our customers enjoy trolling for this size fish using surface baits the best. A great whale and dolphin show is worth the trip, but seeing a tuna come up and crash our surface baits is an indescribable rush that never ever gets old. Ask Dan Lundy who has been taking tuna fishing charters with us for over 10 years. Even though Dan has seen a giant or two in our baits on one of his trips we caught six 40-60 pound Bluefin tuna on a fly rod. It's always good to see Dan and his brothers who are excellent anglers and have taken numerous 50-200 pound fish on our stand up gear over the years.
When you book your trip, if interested, tell us if you would like to do a Tuna/Shark or Tuna/Striped bass combo trip. We are always happy to stop in the rips off Monomoy Island on the way home and catch stripers. Wicked Tuna? Book your trip today and you can make the call.
The federal government regulates the Bluefin tuna fishery.